Montgomery County,
MOGenWeb
The USGenWeb Project

---
In weeks to come you will see some changes made to the website. First thing, a search engine has be installed.
More cemeteries are being added as time permits, and some things rearranged. Information is welcome and photos are welcome.
Contact me.
R. I. P. Death of Nancy Hale
Funeral services for Nancy Lee Hale, 57, of Mexico, will be held at 2 p.m. Saturday at Liberty Church, southwest of Martinsburg. Burial will be in Liberty Cemetery.
Visitation is from 5-8 p.m. Friday at Myers Funeral Home in Wellsville.
She died at 7:35 a.m., Tuesday, March 10, 2009, at Audrain Medical Center
Full Obit
=========================================================
( Nancy contributed a great deal to Montgomery County during her years as CC and was a well known genealogist and researcher in the area. She was also active in the Montgomery County Genealogical Society and others).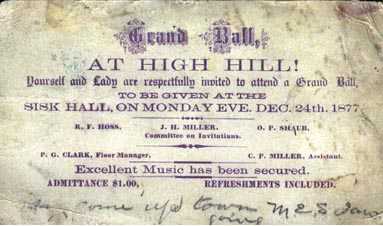 Miss Mary E. Summers of Lexington, Lafayette County, Missouri, received this postcard invitation from an old beau. Miss Summers became the great-grandmother of Joe Schmidt. Contributed by Laura Schmidt.
---
Montgomery County was organized 14 December 1818 (effective 1 January 1819) from St. Charles County and named for Richard Montgomery, a Revolutionary War general. The county seat is Montgomery City. For more history, see Missouri Courthouses: Montgomery County.
---
Montgomery County mailing list -- To join MOMONTGO, send the message subscribe for either mail mode or digest mode. Search MOMONTGO-L archives.

Index of Surnames, Queries, Articles, and Researchers

Montgomery County Message Board Post queries, Bible records, biographies, deeds, pensions, obituaries, wills, photographs

Articles -- All surnames indexed.


Cemeteries -- All surnames indexed.
Census Transcriptions -- All surnames indexed.

---
Deaths and Obituaries -- All surnames indexed. Nancy Lee compiled some newspaper death reports, including obituaries and articles about accidents, crimes, suicides, and plain bad news.
---
Families of Montgomery County Additions and Submissions are welcomed contact me
---
Marriages -- All surnames indexed. Nancy Lee compiled some newspaper marriage records.
---
Schools Additions and Submissions are welcomed contact me
---
OFF SITE
Missouri Death Certificates, 1910-1957 The index can be searched by first name and last name, county, and by year and month. Once a name is selected, a digitized image of the original certificate can be retrieved.
---
Census Images -- Ed and Sandy Mackley have all Missouri counties 1830-1850.

---
---
Missouri in the Civil War links

There may be some outdated links in this section
Information on Montgomery County vital records
Montgomery County Genealogical Society News
Contact the County Coordinator
---
The MOGenWeb/USGenWeb Project
In March and April, 1996, a group of genealogists organized the Kentucky Comprehensive Genealogy Database to provide a single entry point for all counties in Kentucky, where collected databases would be stored. The databases were indexed and cross-linked, so that people could be located in the index even when they hadn't stayed in one county. At the same time, volunteers were found to coordinate the collection of databases and generally oversee the contents of Web pages. The idea caught on and volunteers went to work in every state and county, cooperating in The USGenWeb Project and eventually The WorldGenWeb Project.
The MOGenWeb Project home page
The USGenWeb Project home page
The USGenWeb Project links to states.
The USGenWeb Project's Archives for Missouri -- Search engine for archives
The USGenWeb Tombstone Transcription Project
The Missouri Cemetery Project
The WorldGenWeb Project home page
---
Our sincere THANKS to Joanna for maintaining the Montgomery County website all these years. Your new county Coordinator is Betty Brooks as of October 20, 2008. This page was last updated Nov. 20,2008
---
This page was last updated 17 October 2008 and was maintained by Joanna Ashmun, Montgomery County coordinator.
© 1997-2008 by Joanna M. Ashmun. All rights reserved.